Eurotherme Bad Schallerbach – a few minutes from the Parkhotel Bad Schallerbach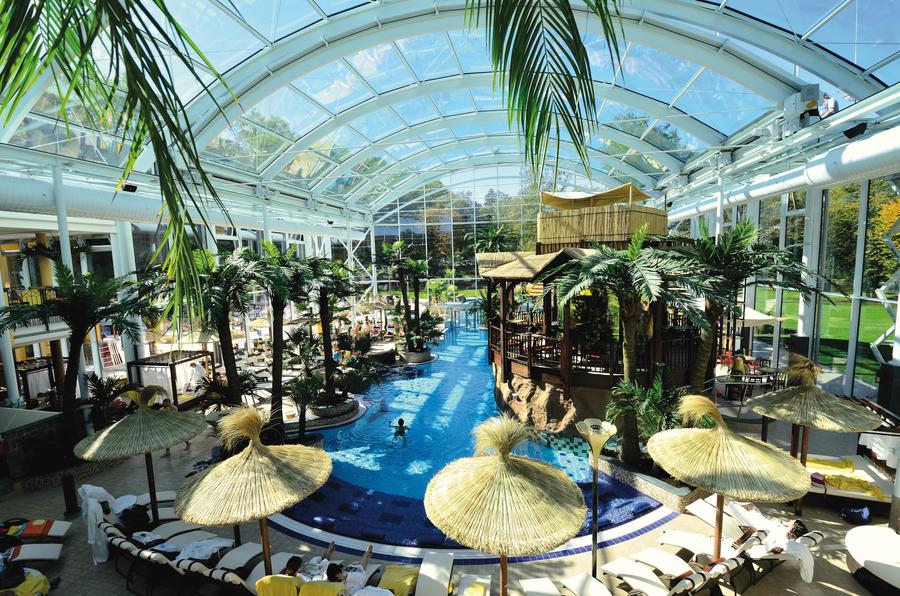 Holidays in Upper Austria's top wellness thermal spa
Enjoy a variety of relaxation, recuperation and adventure second to none in the Eurotherme Bad Schallerbach. To enjoy the thermal, family and sauna offer, one day is rarely enough. Spend a cosy holiday in the Parkhotel Bad Schallerbach located just a few hundred metres from the thermal spa, while also spoils you with its own wellness area.
"Eurotherme VIP Watch" exclusively for our guests
With our hotel's VIP watch for the Eurotherme, you have the chance to acquire all day admissions directly from us at the reception.
You have the advantage that you don't have to queue at the normal thermal spa cash desk, but rather can arrive in the thermal spa directly via the VIP entrance.
What's more, you can leave the thermal spa as often as you wish during the day and enter again as you like. (Deposit watch at the cash desk)
What's more, we can offer you a one-time 50% discount on the Eurotherme pass (admission to Aquapulco, Tropicana AND AusZeit) from Monday to Friday.
Thermal fun on over 220,000m2
Just a few minutes on foot and you will already be checking into the Eurotherme Bad Schallerbach via the VIP entrance. There, every guest will find the right offer for their needs: the Aquapulco Pirate World for families on the one hand and glorious relaxation in the AusZeit sauna mountain village on the other hand and Tropicana.
The vast selection in the AusZeit sauna mountain village thrills sauna lovers. Designed completely in the rustic, alpine style, the unique sauna world offers more than 40 different saunas, steam baths and relaxation rooms. Solid natural stone, genuine wooden cabins and fine relaxing chalets create a mountain village atmosphere where you can devote yourself to sensual rituals and imaginative relaxation possibilities.
You will find an exotic bathing experience in the heart of Upper Austria's Hausruckviertel in the Tropicana Cabrio thermal spa. In good weather, the roof of the well-lit thermal spa opens up and you can enjoy the warm thermal water under the open sky. A white sandy beach, the wonderful thermal lagoon, pool bar, the Colorama pool with South Pacific cinema, a coral grotto with bubble seats, panorama pool and whirl yacht: in the Tropicana, you will be spoilt for choice on where you can relax most. Relaxed lounging areas and sun terraces invite you to take a rest after swimming. The offer is made complete by different healing water pools.
Look forward to a unique thermal holiday in Upper Austria and as a hotel guest, enjoy your thermal experience at favourable conditions! In the Parkhotel Bad Schallerbach, you can stay just approx. 250 metres from the Eurotherme and can also use the hotel's wellness area. Browse through our rooms and send us a non-binding request for your holiday in Bad Schallerbach!