Restaurant in the Parkhotel Bad Schallerbach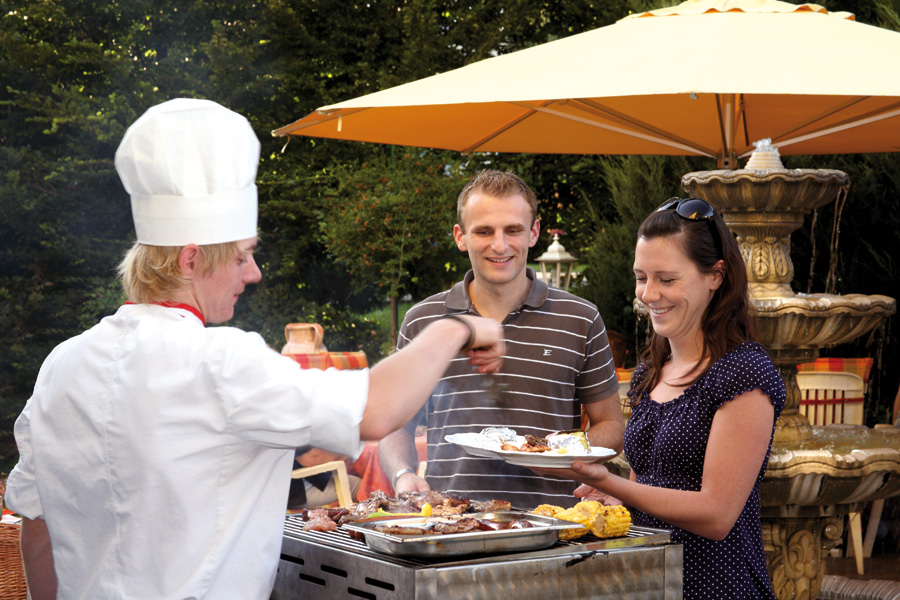 Enjoy delicious food with a park view on your thermal holiday
What would a vitality holiday be without delicious food?
Our kitchen team – around the hotel's manageress – will spoil you with excellent cuisine on your wellness holiday in Upper Austria.
The restaurant at the Parkhotel in Bad Schallerbach is open at the following times:
lunchtime from 11:30 a.m. to 1:30 p.m. and
in the evening from 6:00 p.m. to 9:30 p.m.
At lunch, you can dine à la carte in the restaurant. On the menu, Austrian specialities, including, of course, also typical Upper Austrian and internationally inspired dishes come together.
Let your appetite decide and choose on the menu between meat, fish and vegetarian dishes and a strong soup or light appetiser beforehand.
Have a taste of our current menu!
Luxury menu for dinner in the Parkhotel Bad Schallerbach
Lean back after an adventurous bathing day in the family thermal spa Aquapulco or a relaxed afternoon in the cosy hotel wellness area and be served an excellent dinner in the restaurant.
As part of the luxury half board in your hotel in Bad Schallerbach, you can look forward to a menu of your choice in the evening, with a mixed salad buffet awaiting you with it. A good red or white wine from the wine menu will complete the flavourful treats suitably.
To finish, you can enjoy cheese varieties or – for all those with a sweet tooth – an airy sorbet.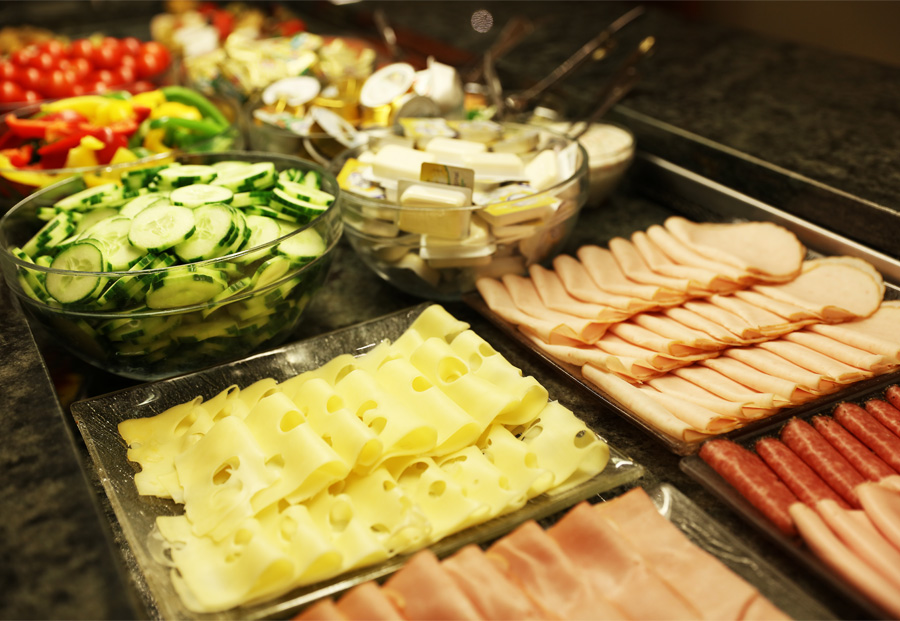 Gala dinners and gourmet menus
Here things will be especially festive: with our regularly held 5-course gala dinners, our kitchen team are on top form and will conjure up the most delicate dishes from the kitchen pots.
Regional and seasonal
Things simply taste best from the region and fresh from the harvest! Numerous foods therefore come directly from the surrounding area. The vegetables are grown in the Eferding Basin, we get the meat from the Mühlviertel, the eggs from the Hausruckviertel and the crunchy pastries from the surrounding bakers.
Afternoon snack – your enjoyable break
In the afternoon, you can reinforce yourself with sweet treats from the cake and strudel buffet and a cup of your favourite coffee.
Cheers at the hotel bar
Those that still feel like a cosy finish to the day after the evening menu will find it at the hotel bar. With a good glass of wine, a cocktail or a prosecco in the best of company, you can finish the holiday day in an enjoyable way.
Already worked up an appetite? At the Parkhotel Bad Schallerbach, we will sweeten your holiday day in the thermal region with excellent cuisine. Browse through our packages or get an impression of our rooms – we will be happy to then put together a non-binding holiday offer for you.