Hotel bar & lobby in the Parkhotel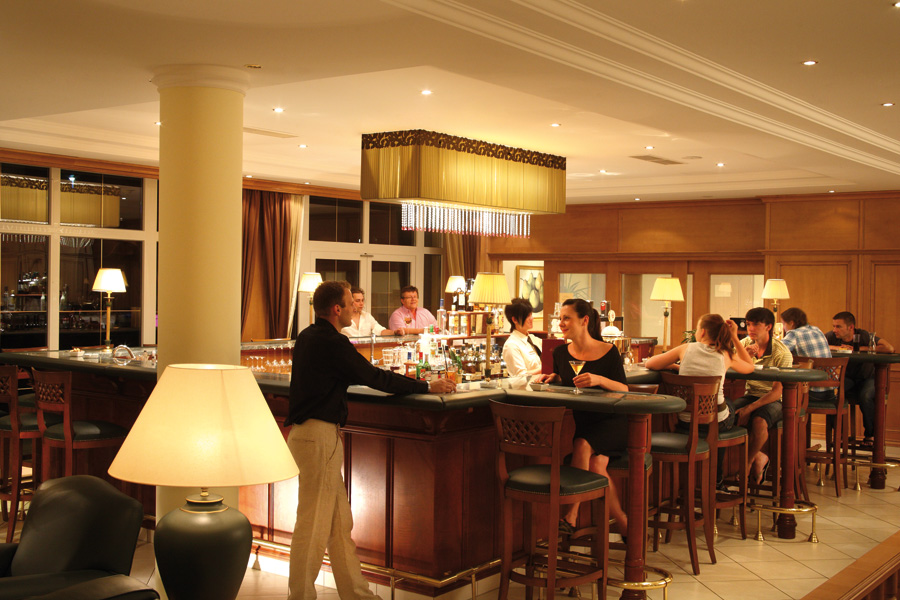 Where guests and locals in Bad Schallerbach meet
Enjoying a glass of wine in a cultivated atmosphere after the seminar, indulging in a cocktail at the end of the holiday day or ordering some refreshment in-between: at the hotel bar of the Parkhotel Bad Schallerbach, it's time for enjoyment and conviviality. Let special moments be created here that complete your holiday or business day perfectly.
Exclusive drinks, trendy summer drinks, colourful cocktails and a good selection of wine will get you in a good mood at the bar. Let our bartender surprise you with a drink, choose a good sip from our wine menu or simply enjoy a cool beer from Austria.
The best place for debriefing business meetings
What would finish a successful business day better than a drink for a toast?
After the seminar in Bad Schallerbach, you can meet at the hotel bar for the day's debriefing. Business travellers are also in the best of company here in the evening. Those who prefer to finish the day more quietly will be best looked after in the wellness area, in the indoor pool or at the sauna.
The cosy lobby is just as inviting as the bar. In the cosy wing chairs, you can bridge over the time perfectly – reinforce yourself with a coffee or browse in the prospects that are available for you in the reception area.
Opening hours of the hotel bar
The bar is open daily for our guests from 2:00 p.m.
Chat and get to know nice people, finish the business day or enjoy a glass with the dearest holiday company. At the hotel bar, you will be at the right place for an afternoon refreshment, aperitif before dinner or a drink later in the day.
We look forward to welcoming you as a guest at the hotel in Bad Schallerbach. Browse through our packages or send us a non-binding request now!