The Baumkronenweg – the slightly different forest walk in the Innviertel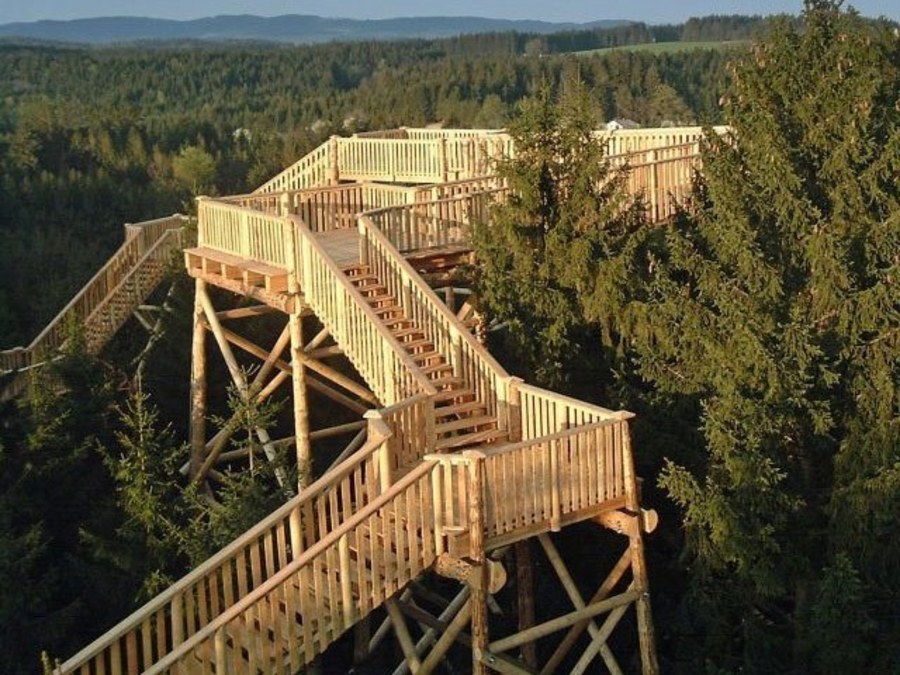 Experience nature and panorama at a height of over 20 metres
You don't need mountains to enjoy a hike with a view: for this, the Baumkronenweg was created a several years ago in Upper Austria. The view not only reaches across the landscape, but also into the forest. You are therefore invited to gaze across the treetops.
The Baumkronenweg in the Sauwald region in Kopfing im Innkreis can be reached in approx. 50 minutes by car from Bad Schallerbach. An excursion there is a recuperative stop on your way to or from your thermal holiday in Schallerbach or a pleasant change to the holiday in the thermal spa.
Also if you are looking for a framework programme for your seminar in Bad Schallerbach, it is worth taking a trip to the Baumkronenweg. The escape room game with Youexit is especially exciting for groups!
The Baumkronenweg runs altogether 2.5 kilometres through the forest. The round path is made completely of wood and consists of towers that are connected with wooden landing stages and hanging bridges. At a height where otherwise birds and squirrels romp about, you can walk directly over the forest.
Distributed along the treetop path, over 30 stations (e.g. balancing station, acoustic station) also provide entertainment and impart prepared information about life in the forest in the process.
Adventure playground
To keep any chance of boredom at bay, children can play around on the large adventure playground. On the 5,000m2 large area, plenty of adventurous fun in the forest awaits with a mega slide, a giant swing, a low-ropes garden and much more.
Youexit: the adventure for groups and companies
Youexit – this is a real-time game that requires genuine team work and is aimed mainly at companies and associations, but also families. During the game, participants have to try to escape a room using objects provided. The special feature: in Kopfing, this room lies hidden high up in a tree in a tower!
Those who are hungry after the Baumkronenweg can stop in the cosy Waldgasthof Oachkatzl or enjoy the gourmet dinner back at the Parkhotel Bad Schallerbach.
Are you looking for an informal hotel in Bad Schallerbach almost directly next to the Eurotherme? In the Parkhotel Bad Schallerbach, you will be in the best of hands as a couple or as a family. Book your accommodation in the thermal town of Bad Schallerbach in Upper Austria now!