Sauna & steam bath in your Upper Austrian thermal hotel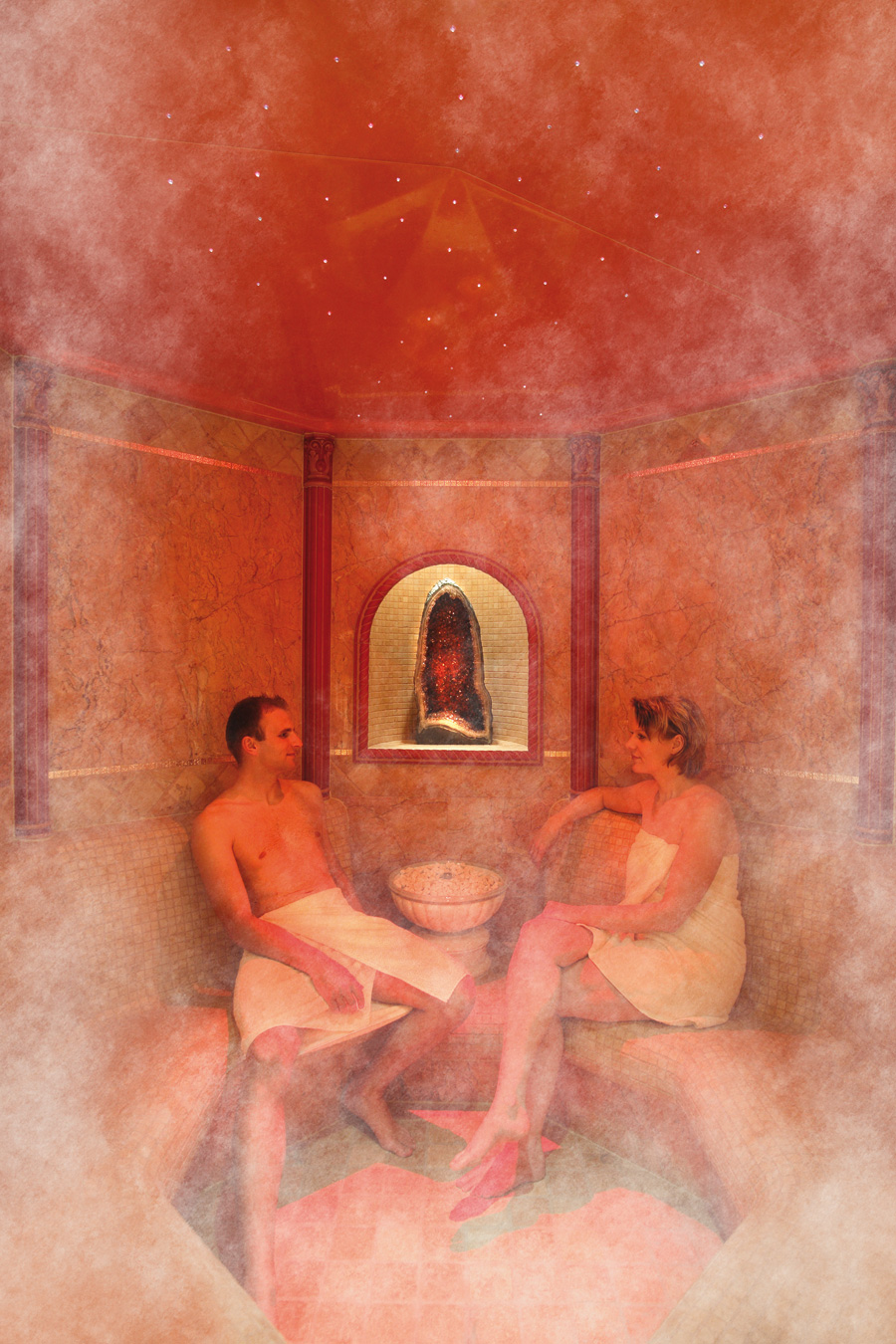 Sauna types at the Parkhotel Bad Schallerbach
You will love this hot world of wellness: the Parkhotel Bad Schallerbach has its own sauna landscape. Proper heat, healing saltwater, aromatic herbs or deep heat: our different sauna types offer the right place for every wellness holidaymaker.
Separate sauna world just for hotel guests
A "Crisp" 85-95°C in our alpine hut-style Finnish sauna will ensure that you can start sweating after a short time.
In the saltwater grotto, the saltwater evaporates through the heat of the sauna stones, creating a therapeutic and pleasant climate with an expectorant, soothing and inflammatory effect.
In the herbal steam bath, stress and hecticness "evaporate" away with the beneficial power of natural herbs. The circulation, blood flow and metabolism is positively stimulated.
It makes you resistant and relieves rheumatic symptoms, cold illnesses, digestive problems and much more. You will feel good in your skin, fit and healthy, like brand new.
Experience your body and soul melting into one in the rose quartz steam bath. With a temperature of approx. 45°C and 100% humidity, the pleasantly warm steam opens up the skin's pores and helps with respiratory diseases. The rose quartz generates harmony and breaks down pent-up worries.
Fill up your body with pure living energy in our infrared cabin. The pleasant radiation heat will penetrate the body deeply. The circulation is promoted and the detoxification of the body from toxins is stimulated.
Luxurious sauna experiences at the thermal hotel in Austria
After your sauna session, peace is exactly the right thing for your body. Bring down your circulation and lean back on the soft lounges in a cosy atmosphere – flickering chimney fire and view of the outdoors included.
Cool drinks at the vitamin and juice bar with Grander water will provide refreshment.
We will be happy to take your non-binding request for your wellness holiday in Bad Schallerbach!